The New Stylotube Automated System is Markal's Solution to Automated Dot Marking
The New Stylotube Automated System is Markal's Solution to Automated Dot Marking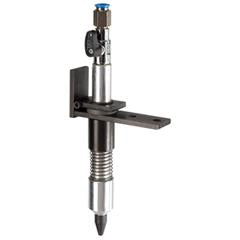 Markal® Now Makes High-Volume Automated Marking Easy, Fast and Economical.
ELK GROVE VILLAGE, IL. – August 5, 2016 – Introducing the Markal® Stylotube Dot Marking System designed for hands-free, high volume dot marking applications for all types of industries. The Stylotube family of products includes the PN200, the more compact PN200D, and RS.2000 replacement cartridges available in 11 different colors. Built tough to easily withstand the demands of high-volume marking, the Stylotube Automated Marking System makes a clear mark on rubber, steel, iron, aluminum, plastic, and even textiles. Features include the refillable steel holder to keep hands and clothing clean, and three different tips that can mark on both smooth and rough surfaces.
"Markal has always been known for hand marking," says Benjamin Kleiman, Director of Marketing for LA-CO Industries, "but more and more customers are asking for automated marking solutions. That's why we've created the Markal of automated marking systems."
Additional information about Markal's new Stylotube Automated Marking System is available by calling 847-956-7600 or visiting www.markal.com.

About MARKAL Markers
A division of LA-CO Industries, Markal is the leading manufacturer of hand-held and automated industrial marking solutions, offering unique and innovative products for global industries including:  metal production, ship building, automotive assembly, welding and metal fabrication, building construction, lumber/timber processing, and many more.  Markal helps industries communicate important information by creating products that are always right for the job.

About LA-CO Industries
Based in Elk Grove Village, Illinois, LA-CO Industries manufactures a diversified portfolio of industrial brands including Markal® marking products for every industry, Tempil® industrial temperature indicators, LA-CO® plumbing and chemical products and  All-Weather® livestock marking products.  Celebrating 82 years in business, LA-CO Industries continues to grow, adding new products and new ideas to guarantee each  LA-CO Industries product is exactly right for the job.
For more information, please contact Benjamin Kleiman at 847-427-3266 or bkleiman@Laco.com.