Markal® Quik Stik® Solid Paint Markers Now Available in Four Fluorescent Colors.
Markal® Quik Stik® Solid Paint Markers Now Available in Four Fluorescent Colors.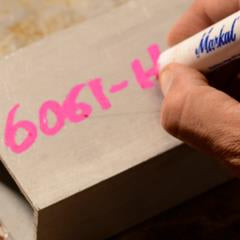 ELK GROVE VILLAGE, IL. – August 16, 2016 – Markal® announces the brightest markers around; Quik Stik® solid paint markers in four vibrant fluorescent colors.  Fluorescent yellow, green, orange and pink are the newest additions to the Quik Stik line, joining the family of eight other bright, long-lasting colors.
"Fluorescent colors are quickly gaining in popularity, due to their outstanding visibility," said Benjamin Kleiman, Director of Marketing. "Combining fluorescent colors with our durable, easy-to-use, twist-up Quik Stik makes this marker ideal for use in almost all applications." 
The gel-based paint is ideal for marking on smooth or rough surfaces up to 400°F, dries quickly and makes the most vivid marks imaginable in most industrial settings. The airtight, self-storing cap ensures each new fluorescent color stays bright, clean and ready to use at a moment's notice. All Quik Stik markers are made at the Markal factory in the United States.
Additional information about Markal's four new fluorescent colors is available by calling 847-956-7600 or visiting www.markal.com.
About MARKAL Markers
A division of LA-CO Industries, Markal is the leading manufacturer of hand-held and automated industrial marking solutions, offering unique and innovative products for global industries including: metal production, ship building, automotive assembly, welding and metal fabrication, building construction, lumber/timber processing, and many more. 
About LA-CO Industries
Based in Elk Grove Village, Illinois, LA-CO Industries manufactures a diversified portfolio of industrial brands including Markal® marking products for every industry, Tempil® industrial temperature indicators, LA-CO® plumbing and chemical products and All-Weather® livestock marking products. Celebrating 82 years in business, LA-CO Industries continues to grow, adding new products that are exactly right for the job.
For more information about LA-CO Industries, please contact Benjamin Kleiman at 847-956-7600 or bkleiman@LACO.com.