Welding Safety Tips
Welding Safety Tips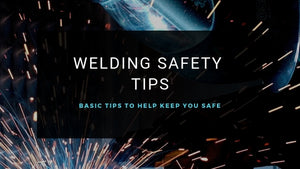 Welding is a great skill and job to have but it can be incredibly dangerous! Here are some basic safety tips to think about when welding at work or home.
Wear the proper safety gear

Clothing should be fire-resistant and cover arms and legs. Exposed skin increases the risk of burns.  It is also recommend that clothing not have cuffs on them as sparks can get trapped in the folds.
Gloves should be application specific and safety glasses should also be worn. Your helmet should be fitted with filter shade.  Your safety glasses should have side covers should always be worn under the helmet as extra protection.

Never look directly at the weld arc

Your eyes can be damaged with just moments of exposure. Commonly known as "welder's eye", a flash burn occurs when the cornea is exposed to bright UV light. It can lead to a minor burn but continued or extended exposure can cause serious damage to your vision.

Go through the proper training

It is possible to learn to weld without going through any kind of certification or training. However to learn the best practices, safety practices, and techniques training is highly recommended.  Being certified can also lead to more job opportunities.

Understand your machine and procedures

Every welding machine is different. Even if you have been welding for years, it is a good idea to read the manual of the machine you are working with.  Not only does it explain the specifics of the machine but it can also supply some additional safety and best practices for the equipment.

Avoid repetitive stress injuries

Like with most jobs, it is important that precautions be taken against repetitive stress injuries.

 

Take breaks and stretch to avoid strains. It also helps to use correct posture and make sure you are positioning your wrists for the least amount of strain possible.

Clean your space

Make sure that your welding surface is clean of objects, debris, and coatings. Loose objects and debris quickly go up in flames.  Any non-weldable coating on the welding surface should be removed to help avoid toxic fumes and/or contaminated welds.

Ensure gas canisters are being stored properly

No matter the type of welding, the gas canisters you use should be stored upright in a cool, dry place. Make sure they are not leaking and keep them away from sparks and debris.
What safety tips do you follow to make sure you are being safe and producing safe welds?
To learn more welding products offered by Markal.com, including Bloxide weldable primer, temperature indicators,heat protection products, and welding markers, please visit any of welding categories.
To learn more welding safety tips check out these sources:
https://www.millerwelds.com/resources/article-library/12-tips-for-improving-welding-safety
https://www.ishn.com/articles/103728-all-about-welders-flash-or-arc-eye
https://www.atlantictraining.com/safety-tips/welding-safety-tips.php