Top Five Welding Products
Top Five Welding Products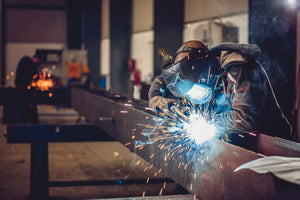 Welding is a vital part of almost every industrial industry. A bad or contaminated weld can have detrimental consequences. There are a number of factors that can lead to problematic welds including the distance of the gun, incorrect temperatures, issues with the gas hose or flow, debris or rust on the surface, or unable to see the welding joint/lines.  LA-CO Industries has a number of products to help make sure your welds are precise and secure.
Markal PRO
Mechanical holder for hard-to-reach areas
The Markal PRO's all-metal and refillable construction, built-in sharpener, and one-click advance provide years of reliability and ease-of-use.  Welding refills make torch-resistant marks that will not burn or rub off and are ideal for fine line marking during metal layout and fabrication.  These highly visible marks illuminate when cutting or welding.
Tempilstik®
Fast, accurate surface temperature indicator
Specially engineered for accurate temperature indication in pre-heating, interpass and post-weld heat treating applications, Tempilstik is the original temperature-indicating stick with the best combination of precision and convenience for surface temperature measurement.
Cool Gel®
Heat barrier spray
Cool Gel can be used during welding, soldering or brazing job to protect components and materials from costly heat damage. Cool Gel's unique, no-drip gelled formula evaporates within 48 hours, eliminating cleanup. 
Welder's Pencils
Welders pencils for metal layout and fabrication
Silver-Streak® and Red-Riter® welders pencils make torch-resistant marks that will not burn or rub off like soapstone.
Bloxide®
Weldable primer
Bloxide is a versatile, weldable primer with a unique aluminum-based formula that eliminates cleaning or removal before welding, thus saving time and labor costs. Enhanced by corrosion preventative features, Bloxide can be applied to a wide range of metals for extended periods of storage, assisting in producing X-Ray quality welds.