Top Products for Trucking
Top Products for Trucking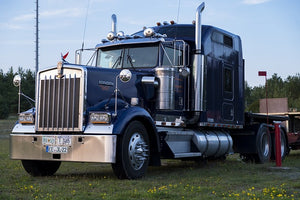 It is estimated that there are over 2 million semi-trucks and nearly 6 million semi-trailers on the road.* From transporting consumer goods to wood to heavy equipment and even livestock he trucking industry has been lifeblood for the transportation industry since WWI.
Marks created in the trucking industry need to be as durable and dependable as the trucks themselves. Whether marking tires for repair or torque marking engine bolts, Markal has a marketing product that will work for you.
Security Check Paint Marker 
Torque security paint marker
The paint marks of the Security Check Paint Marker crack for visual indication of loosening or tampering of bolts and parts.  The extended tip allows for precise marks on big or small pieces
Security Check Paint Marker is ideal for marking bolts in the engine to check for vibration and the lugnuts to prevent tampering or loosening.
Pro-Wash®
Removable liquid paint markers
The unique paint of Pro-Wash D & W makes bright and durable marks until you want to remove them. The marks can be removed from non-porous surfaces without ghosting or leaving any residue.  Marks can be removed with water or mild detergent making sure that your marks are seen when they need to be and removed fully when they don't.
Pro-Wash is ideal for quality control, assembly, and part identification.
PRO-LINE® XT
Liquid paint marker for rough surfaces and extreme durability
PRO-LINE XT is a liquid paint marker designed for marking on rough, rusty, and dirty surfaces and the paint utilizes an enamel resin to provide enhanced wear-, weather-, and chemical-resistance. The durable nib is designed to let the paint flow from the marker without getting clogged with dirt or rust making it ideal for marking in the most extreme circumstances.
Pro-Line XT is ideal for marking parts, trailers, and doors.
B® Paintstik®
Multi-purpose permanent solid paint crayon
The B Paintstik solid paint marker combines the durability of paint in the convenience of a crayon. This versatile marker can on rough, rusty, smooth, dirty oily, icy, wet, dry or cold surfaces and is weather- and UV-resistant.   With the ability to mark on almost any surface, the B Paintstik is the perfect general use marker.
The B Paintstik is ideal for general marking on doors, tires, trailers, parts, products, and more.
*https://hdstruckdrivinginstitute.com/semi-trucks-number