Top DIY Resources
Top DIY Resources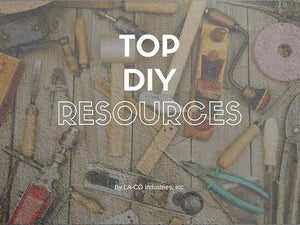 Like many other areas, the do­it­yourself (DIY) industry suffered after the 2008 recession. Fortunately for all you makers, tinkers, and crafters, it's coming back strong! According to CNBC, yearly spending on home improvement is set to reach $321 billion in 2017! 
It is no wonder that there are millions of resources available to help the DIY­ers of the world.  Whether you are just beginning, or an expert crafter, these 10 resources can help you with any project! Ready! Set! Do-it-yourself!
With over 60 different sources listed, the Ref Desk is guaranteed to have a website or forum that will help you with any project!  Topics covered include furniture building, bug removal, furnace and plumbing repairs, and even a page on fixing your iPhone!  Visit the Ref Desk at http://www.refdesk.com/doitself.html
DIY Network is more than a TV channel.  The channel also has a very informative website, DIYNetwork.com.  Filled with how­ to guides, videos, and a blog, DIYNetwork.com caters to a wide range of skill levels and has over 30 categories of how­to guides. 
The DIY Network also has a YouTube page that has a library of how­to videos that grows every day. Topics range from home improvements to at­home crafts.  They have also done several live streams with personalities from their shows.
Doityourself.com not only offers hundreds of how­to guides and information articles, but gives you a chance to submit your own projects onto the website. Pictures, information, budgets, and tools can be added to each posting so you can share the amazing things you have done and see what projects others have completed.
Diychatroom.com allows you to reach out to other DIY­ers and talk about any project, question, or issue you might have. With over 30 categories and thousands of conversations happening at any time, diychatroom.com has the answers you need.
DIY Creators YouTube channel is the perfect channel for all the part ­time DIY­ers of the world!  The creator of the channel is a part time DIY­er himself, and has over 60 videos that focus on furniture/home decor, woodworking, concrete, and product reviews. There is even a series called "Limited Tools" that is geared specifically towards beginners.  To check out DIY Creators click here!
Everyone knows that Lowes stores are filled with associates that will help you with projects, but did you know they also have a YouTube channel?  With nearly 800 videos, including a series starring the DIY Guy, the Lowes YouTube channel has a video that can help you with any project.
The DIYZ app makes getting help on projects as easy as clicking a button.  The app includes how­to guides, live video chats with expert advisers to get your questions answered and tool recommendations. The DIYZ app is available for download on Android and Apple devices and has minimal costs associated with the live chats.
WikiHow App
WikiHow makes over 180,000 how­to guides available at your fingertips.  Articles range from instructions on building shelves to ways to survive a bear attack and feature step­by­ step instructions, photos, illustrations, and videos to make learning how to do anything easy! The WikiHow app is available for download on Android and Apple platforms and is completely free. 
Four guys who actually take part in making/DIY, talk about all aspects of making and DIY.  They do not go into step­by­step instructions for projects, but focus on making/DIY as a whole and all the pieces involved both in the shop and out.  The perfect listen while you are working on your own DIY projects. Click below to listen!