Ready, Set, LEAN Manufacturing
Ready, Set, LEAN Manufacturing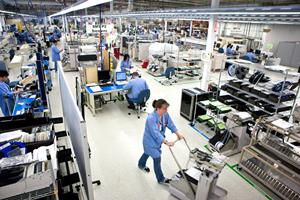 Anyone who has participated in LEAN Manufacturing knows that it is a lot of work but in the end can be incredibly rewarding.   LEAN is the continual pursuit of waste elimination in processes through the use of four key principals: 1) Respect for the individual; 2) Leader as teacher; 3) Seeing with new eyes; and 4) Seeing with your own eyes.  It is something that LA-CO Industries has been hoping to implement for a while and we have finally been able to do it with our first company Kaizen. 
READY    SET    GO . . .
So how did we do it?
A cross functional team was assembled to kick off the LEAN Manufacturing journey at LA-CO to optimize the flow of materials and information in and out of the manufacturing process.  Utilizing a Kaizen Blitz, this cross functional team over a 5 day period reviewed the current state, brainstormed improvement ideas, implemented the improvements, and trained fellow team members in standard work and visual controls while reducing the process to eight (8) steps from the previous thirty-two (32).  
As the business has grown through the years, the process and timing of material flow into the manufacturing area has created some congestion and TIMWOOD.  TIMWOOD is an acronym for the seven deadly wastes:
T - Transportation
I - Inventory
M - Motion
W - Waiting
O - Over processing
O  - Over production
D - Defects / Rework
Not only did the team improve the process, we were able to establish a culture of PIF.  Be Passionate in what we do, be Innovative in out thought process, and have Fun while doing it.
Have you had any success with LEAN Manufacturing or a Kaizen project that you would like share? Send us your story on our Facebook pages or at marketing@laco.com.