Kate Moon, the Welder with the Markal® Tattoo
Kate Moon, the Welder with the Markal® Tattoo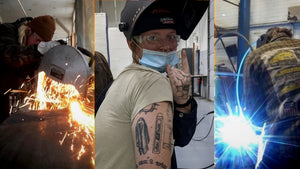 Although, the welding industry has made great strides in adopting more ladies into the profession, only 5% of welders are female. We spoke with Kate Moon, about her experiences to become a woman in welding as well as what inspired her to adorn her body with a classic Markal® B® Paintstik® tattoo.
Kate Moon studies the latest blueprint for the next piece she's going create. She figures out her calculations, pops in her ear buds, lowers her hood and picks up her torch as she willingly welcomes the darkness she has come to associate as her zone of peace and comfort. It hasn't always felt this way. It's been a long, hard-fought struggle for her to get to this place in her career. One she almost stopped pursuing altogether years ago in Philadelphia, where she grew up and got her first introduction to the metalworking world.
In her early 20's, Kate began working mainly in demolition and contracting jobs. She grew bored with the work after some time and began to seek out other possibilities. Through her personal circles, she discovered the first spark of interest in welding through a friend who had been learning metalwork. He recommended she visit the welding school he was attending so she signed up for a tour to begin a journey that would change her life in many ways.
Photo:
Kate has welded stairways and railings
as shown; a career she almost stopped pursuing.
Kate stops at this point and blows out a shaky breath. She uncomfortably clears her throat before continuing. "When I went there, I felt like I wasn't accepted at all," Kate recalls hesitantly about her school tour. As Kate continues to recollect her interactions with the long-time instructor who gave her the tour, you can hear the faint trickle of the stress she once felt creeping into her voice as she relives the moments. "He told me that only one woman had ever graduated from the school and they've been running for years. He's been there for like 30 or 40 years. He also pointed out that there were no women's changing rooms. I was like, alright, I guess I'm not going here. It felt very unwelcoming."
Kate later moved from Philadelphia to Detroit when she was 25. She bought a house for $9,000 and decided to fix it up on her own. She framed out rooms, ran her own plumbing, did the electrical, gas lines, put-up drywall and began restoring her new home in-between continuing to earn a living as a contractor. "We just got our furnace turned on like 2 weeks ago (it's now January), after 3 years of living here without heat." She says. "We have a wood burning stove so there's been a lot of wood chopping." 
During that time, she met Sarah and Lily, who had gone through the Women Who Weld® program two years prior to Kate's arrival in Detroit. They all formed a close friendship and Kate was told about the program. The two women soon became Kate's inspiration to join.
Women Who Weld® is a nonprofit organization founded by Samantha Farrugia that teaches people how to weld and find a career within the industry. They currently have single-day introductory workshops, week-long classes and year-round welding opportunities for individuals who are interested in learning the basics and stepping down a new path.
"As soon as I found out about Women Who Weld®, I met Samantha. We became friends immediately. She's not just my instructor, she's a really good friend that I could call if I needed anything." Kate states fondly.
Photo: Kate learned how to weld through The Women Who Weld® program.
Since completing the program, she did continue to face adversity including belittling, looks of confusion and people questioning her presence at welding job interviews. "It was so hard. There were so many other things I still had to learn," Kate remembers like it was yesterday. "I never went to college so I felt like there were so many things that I didn't know. It would put a lot of pressure on me and I'd get flustered."
Yet she never gave up. After several more years of hard work, through low-paying jobs, self-teaching and people who took the time to mentor her, she was able to overcome many of the difficulties that blocked her way. "I spent a lot of time pushing a broom on the ground," she recalls. "But I also got to learn how to do other things like TIG welding with metals like aluminum and steel."
Photo: One of Kate's favorite memories was TIG welding two
aluminum spiral staircases for a bookstore that was opening in Royal Oak, MI.
Kate felt solidly a part of the welding industry with more confidence and experience under her belt. For a while, she worked in custom fabrication making things like railings, staircases and other big projects. "I liked custom fabrication a lot because it was always something different." Kate says excitedly. "I walked into work and got handed a blueprint. I just made whatever the paper said." She also has several pieces that she's welded in her own house.
Currently, she's welding for a local furniture company that specializes in building furniture using reclaimed lumber from abandoned buildings. She welds the metal framework for the furniture and then passes it off to their carpenters for the woodworking. During her projects, Kate uses Tempilstik® to check the surface temperature of metals, Markal® Silver-Streak® with Silver-Streak® Leads, Markal® B® Paintstik® as well as soapstone as her tools for making a variety of marks.
Photo: Kate welds the framework for custom furniture
before the project gets passed to carpenters for woodworking.
When asked about her tattoo of the Markal® B® Paintstik®, Kate gets excited about one of her favorite topics. "I really love trains and train culture.," she says. "There's a history of Markal® and railroads. A lot of the rail workers from as far back as the 20s and 30s are known for using Markal®. It's been around for the longest time. It's just a known thing for anyone who's into it."
Metal and railways is an infatuation she's had since she was a child. Growing up in Philly, Kate lived on a one-way street with her mother. Freight trains would pass through twice a day near their home. She liked to go out and watch them pass by every chance she had. "I would be thinking, wow, this is so beautiful! Trains are so cool!," she says. "I was this young girl that was totally obsessed with trains and their history. That's why I got the tattoo."
Photo: Kate's Classic Markal® B® Paintstik® tattoo.
She continues, "The Markal® B® Paintstik® is the classic go-to marker. They're just all around the best. They're oil-based, last-long and they have all different colors. I even have an old box of Markal® B's from the 60's, I don't use them, but that's how much I like them." Kate pauses and laughs, "I even collect the empty wrappers and make stuff from them."
Nowadays, Kate enjoys creating welded pieces for others though her job and side projects. She describes it as an amazing way to create ideas and make them a physical reality. "When people asked me before what I did for a living, I would just say I'm a contractor. Now when I'm asked, I'm really excited and proud to tell people that I'm a welder. They're really excited about what I do too," she says happily.
Kate's happy to be able to pay it back. She's also an instructor for Women Who Weld® where she's teaching and bringing the world of welding to others. "Getting into Women Who Weld® and having the opportunity to teach others how to weld is the most magical job that anyone could have asked me to do. It's everything I ever wanted to do all in one. To help people and to teach them."
Taking a moment to reflect on her journey to get to this point Kate says, "I know it might sound silly and it shouldn't be a thing, but no one should really care about whether you're a woman or a man working in this field. I feel really good about what I'm doing and I like to think I'm giving other people the opportunity to know that it's possible for them to be able to work as a welder too."
Kate continues to actively learn, sharpen her skills, seek opportunities to weld and restore her home. In the future, she hopes to start her own shop in Detroit with the addition of expanding into blacksmithing. 
We'd love to see what you're working on! Show us your mark of work using our products on social media by tagging us and using #themarkofwork. You may be the next feature on our social channels.
---
LA-CO Industries, Inc. takes pride in supporting the hardworking contractors and workers that build the world's greatest bridges, ships, automobiles, aircraft, homes, office towers, power plants and many other engineering marvels.