CASE STUDY: Preventing Workplace Injuries during Routine Equipment Maintenance
CASE STUDY: Preventing Workplace Injuries during Routine Equipment Maintenance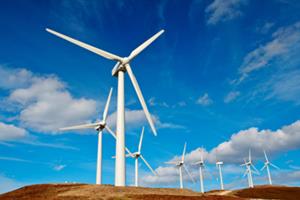 The Challenge
According to the United States Department of Labor, "workers in wind farms are potentially exposed to a variety of serious hazards, such as arc flashes (which include arc flash burn and blast hazards), electric shock, falls, and thermal burn hazards that can cause injury and death." This statement proved especially true at one wind farm after a service technician was seriously injured while opening a compartment during a routine maintenance check on a wind turbine. Since he was unable to measure the internal temperature by looking through the clear window on the door leading to the gear box, the technician opened it to gain access to the compartment. The technician was then exposed directly to an arc flash, resulting in serious burns requiring immediate medical attention.
The Response
In order to ensure the safety of their employees and prevent any future similar injuries from occurring during routine equipment checks, it was determined that a new, less direct way to measure the temperature inside the gear boxes was required. Because the clear window on the door allowed for service technicians to see if the temperature inside the compartment had reached a critical point without having to open the door, it was determined that an accurate, permanent, and visual temperature indicator would be the best option. After consultation and research, it was determined the best type of temperature indicator to use would be a label that could be directly adhered inside the gear box.
Since they can be quickly affixed to almost any surface, leave a permanent record, and can be used to quickly provide a visual indication when a precise temperature has been reached, Tempil® Series 21 Tempilabels® were identified as the ideal product for the job. The labels are uniquely designed to deliver immediate and reliable readings in a variety of applications or environments. Accurate to +/- 2% of the Fahrenheit rating, the non-reversible labels are ideal for keeping a permanent visual record of potential service issues with their single-way color change.  
The Result
Due to the addition of temperature indicating labels on the gear boxes at the wind farm, working conditions have become much safer for service technicians during maintenance checks on the wind turbines. Since the label can be visually checked through the service window, technicians are not required to open the unit, reducing the chances of another safety issue like the one that had occurred to the employee that was seriously injured. As an added benefit, the wind farm has also seen reduced repair costs. The irreversible labels alert the farm to potential service issues by keeping a permanent record of irregularities that may not be observable during inspection. 
Images from: www.bls.gov ©